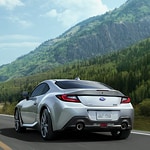 Subaru has always been ahead of the curve in driver-assist technology, and this is no exception in the 2023 Subaru BRZ. This vehicle comes standard with Adaptive Cruise Control, which adjusts your speed while driving according to traffic conditions. There's also Lane Departure Warning and Prevention, which warns you if you are veering out of your lane, and Automatic Emergency Braking should you need assistance avoiding collisions.
Additionally, you'll have Blind Spot Detection and Rear Cross Traffic Alerts when backing up or changing lanes. The 2023 Subaru BRZ has high-tech cameras and sensors for extra protection. The EyeSight Driver Assist Technology includes a set of front-facing cameras that monitor traffic conditions for enhanced safety. These cameras will detect any objects or people in front of the car so that you can make informed decisions about how best to react quickly and safely.
Additionally, sensors in the car's body detect objects such as curbs or other cars around your vehicle, giving you an extra layer of protection while driving in Amherst, NY. Check it out at Northtown Subaru today.