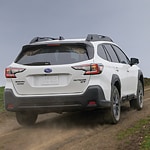 Driving in the backcountry has never been more exciting with the new 2022 version of the Subaru Outback. This car, designed for towing and off-road driving, will pump your adrenaline with its top safety features and suspension system.
The suspension system has been improved with reinforced materials and a new front-end design for a smooth ride. The SUV's interior has been completely redesigned to include some safety features, such as an electric rollover protection system. For your safety, there is an advanced airbag system with push-button start capabilities. There are also optional in-dash GPS systems, which will help you find your way through rough and unfamiliar terrain around Amherst, NY.
The Subaru Outback here at Northtown Subaru has a hill descent control system that aids in slowing down on steep slopes by reducing the pressure on the accelerator and brake pedals. The braking system also has been modified to allow even more controlled stopping. Also added to this car is a new All-Wheel Drive system that will help drive you in any weather condition.